Kialo Edu offers a collection of discussion templates for you to use in the classroom. Each template includes a customizable prompt for students and starter claims to kick off the discussion. You can search for templates based on subject and suggested age group.
New to Kialo Edu? You may find it useful to first review Getting Started with Kialo for Educators to familiarize yourself with common concepts used on Kialo.
About Discussion Templates
Discussion templates are pre-made discussions which include a thesis, starter claims, student prompt in the background info, cover image, and discussion name.
All aspects of the template, such as starter claims or background info for students, can be customized if desired during the creation process.
Templates are organized by age group and category, and can be filtered to find those most appropriate for your class and subject.
Once a template is selected, the prompts will guide you through configuring your discussion settings (such as Tasks) as desired. If you're not familiar with the different options, see Important Tools and Features for Educators for an overview.
Consider setting up Kialo teams for your students (such as through Team Allocation Links) if you plan on using templates (or Kialo Edu in general) frequently, as this will greatly reduce setup time inviting students.
Using Discussion Templates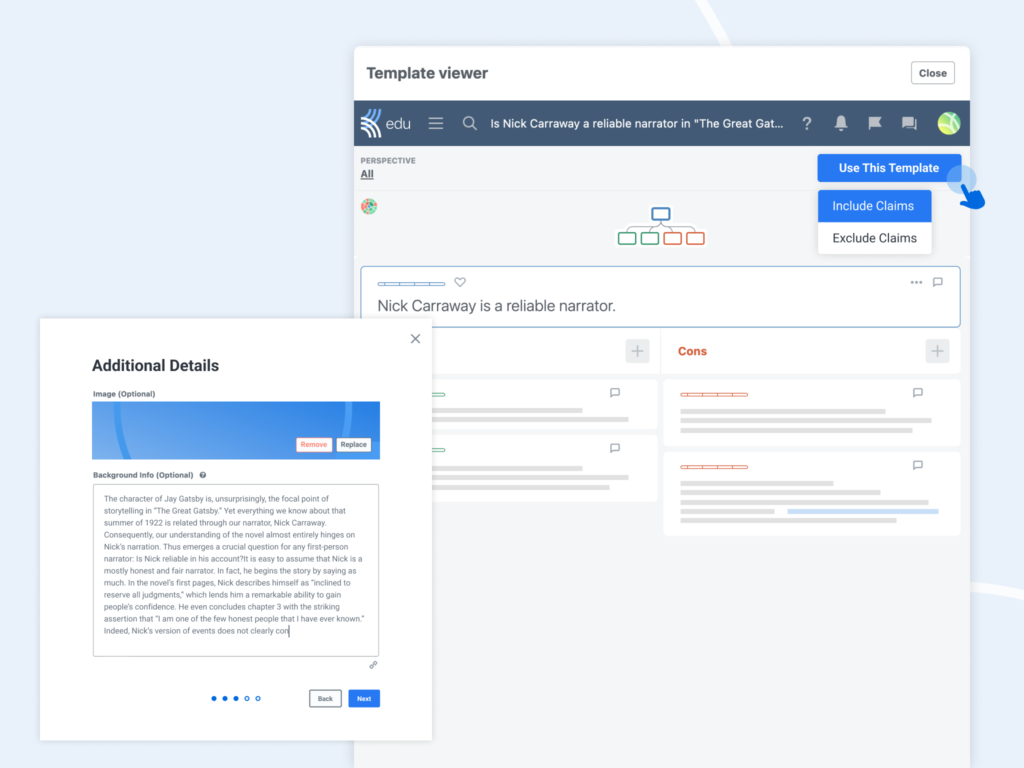 To use a template:
Click Templates in the navigation bar in My Kialo to open the Kialo Templates page.
Use the search and filtering option(s) at the top of the page to find a template to use. You can:

Search via keyword;
Filter via age ranges;
Filter via subject/category.

Click a template you like the look of to bring up a preview. You can review the student prompt located in the Background Info section and mouse-over the pros and cons in the Discussion Topology section to read the starter claims.
Reminder: You can edit any part of a template during the next few steps.
If you are happy with the template, click Use This Template in the top-right of the template window. Select either:

Include Starter Claims if you are happy with the claims in the template.
Exclude Starter Claims if you want to provide your own starter claims or if students should create their own. The template thesis will remain.

Follow the steps in the prompt to configure your discussion. Click the question mark icons or "More info" links next to any settings if you're unsure about them. Once finished, click Create to create your discussion.
Invite your students! You can either enable a sharing link to share with students (be aware students may share this link outside the classroom) or invite students directly with their username or email address.
If you wish to configure any settings in your discussion after it's been created, you can do so by clicking the ≡ (three horizontal lines) button in the top-left of the discussion and opening the Discussion Settings.